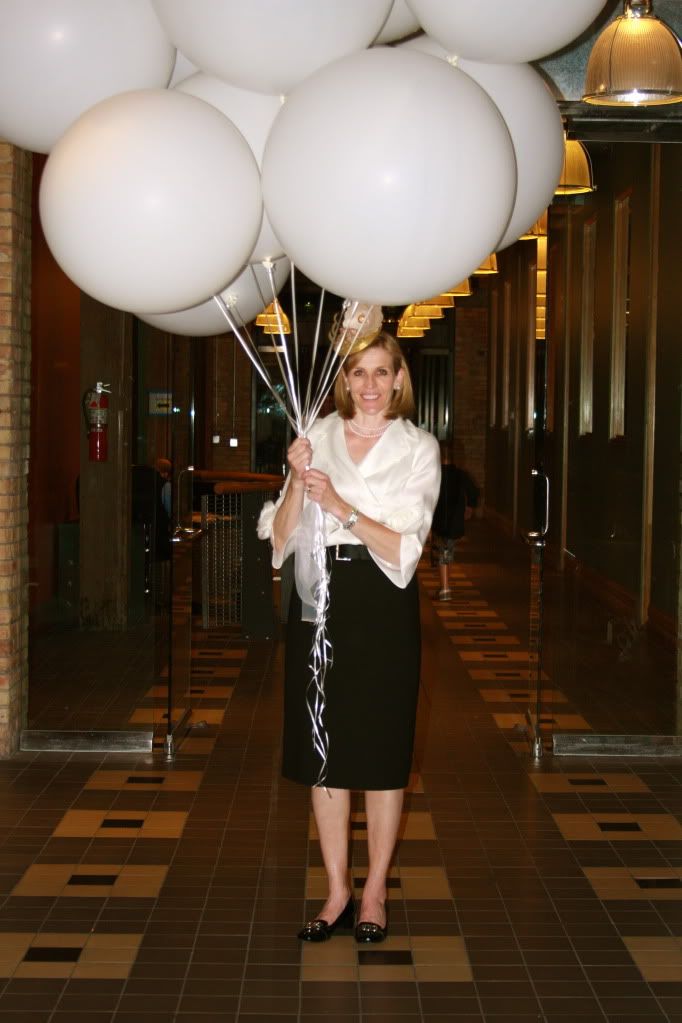 my mother-in-law turned 50 on june 3rd. to celebrate this milestone in her life, we helped throw a big *surprise* birthday party in her honor with all her close friends and family at the SLC hardware building downtown. it was so much fun and she was completely surprised and even got a little emotional (score!). everyone had the option to make and wear "party hats" (as creative and crazy as they wanted). a lot of people made really fun fascinator type headbands.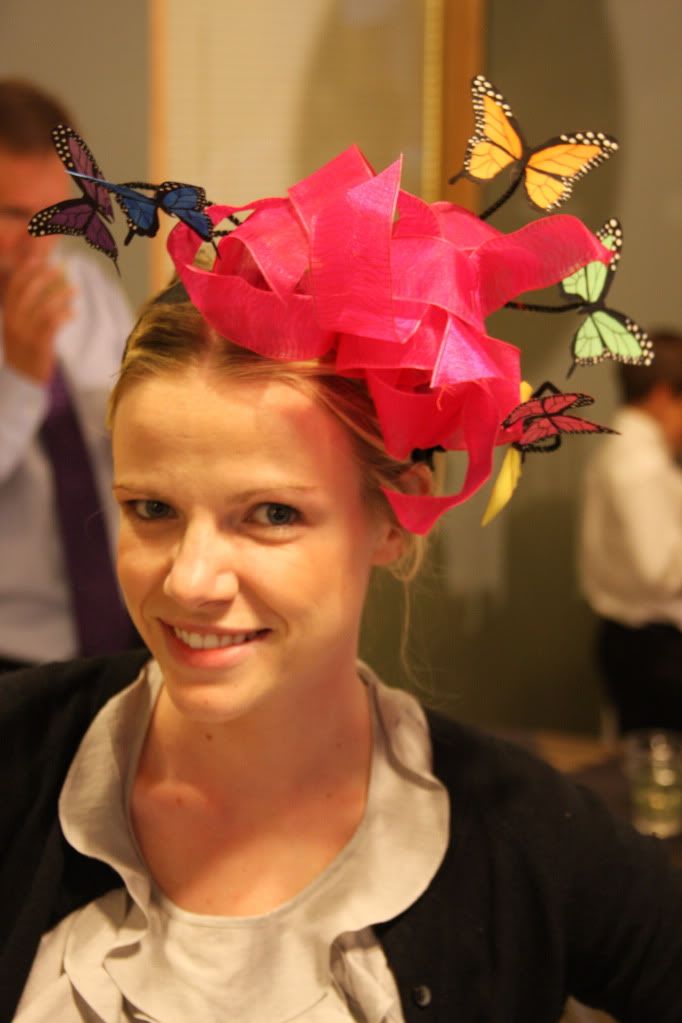 its not the best angle as you can't see all my amazing butterflies, but i was pretty happy with how it turned out. i got my inspiration from
here
. can't take much of the credit though. steve painted and colored every butterfly for me. that boy is seriously artistic. i've decided he is going to be in charge of jayne's 2nd birthday cake because he is that good. he gets in the zone and magic happens. i'm not kidding.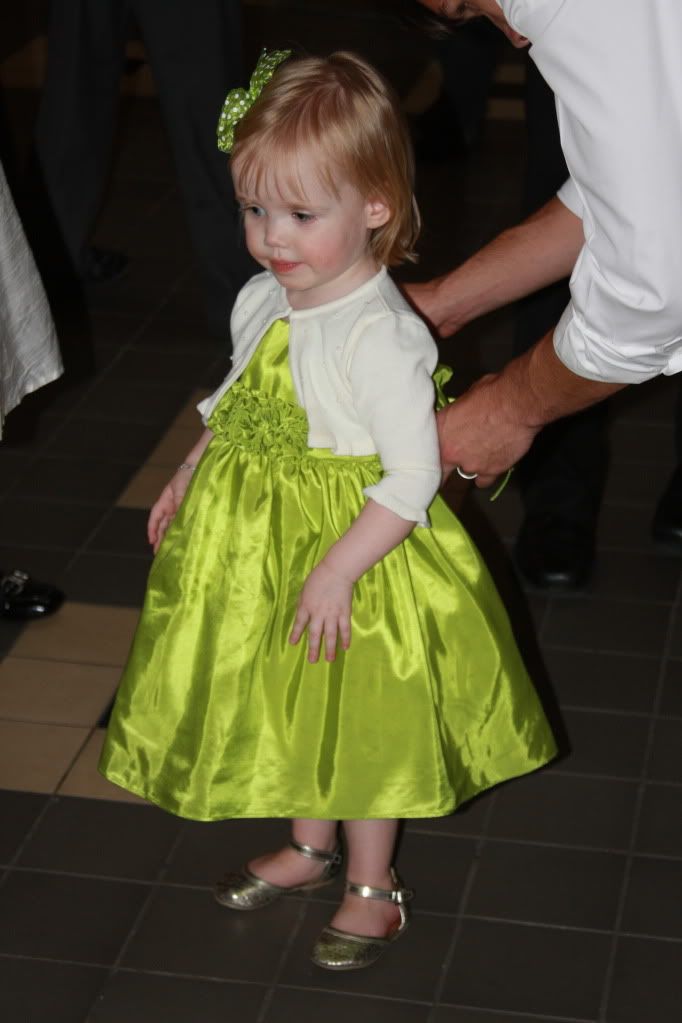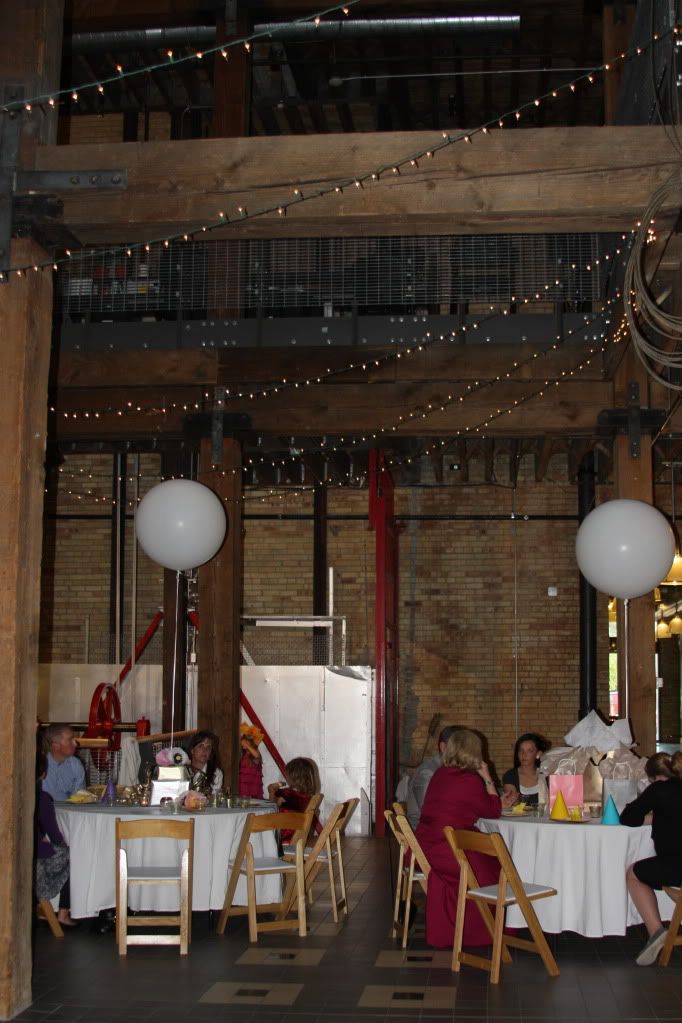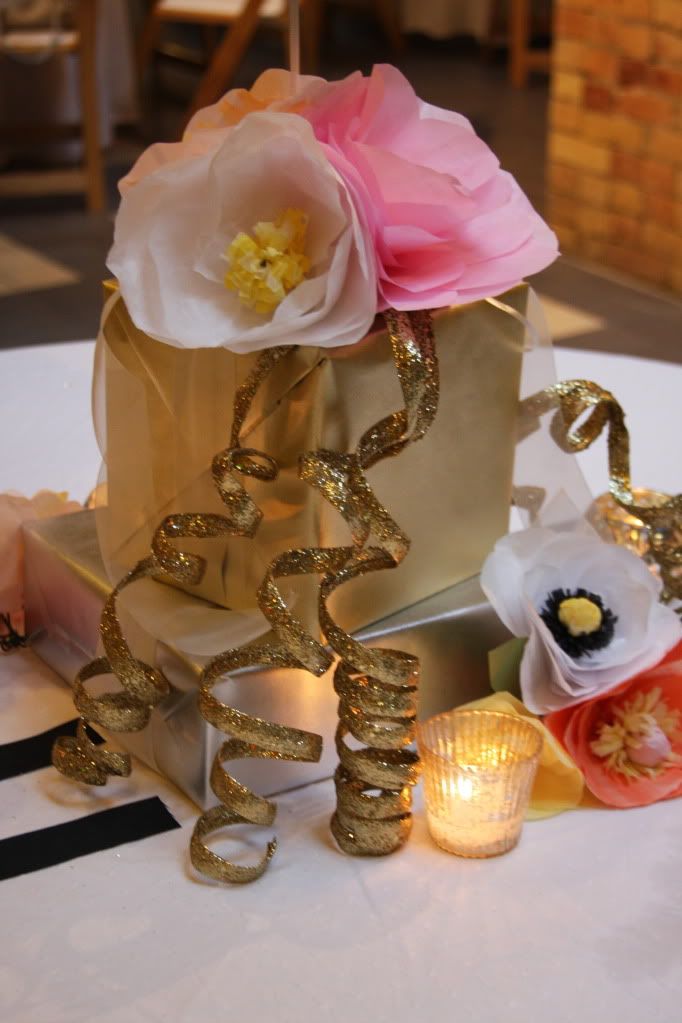 my sister-in-law lauren was the head honcho in putting together this party. she did a lot of work in the planning and executing and we helped out where she needed us. everything turned out so well. those flowers you see are made out of tissue paper. gorgeous!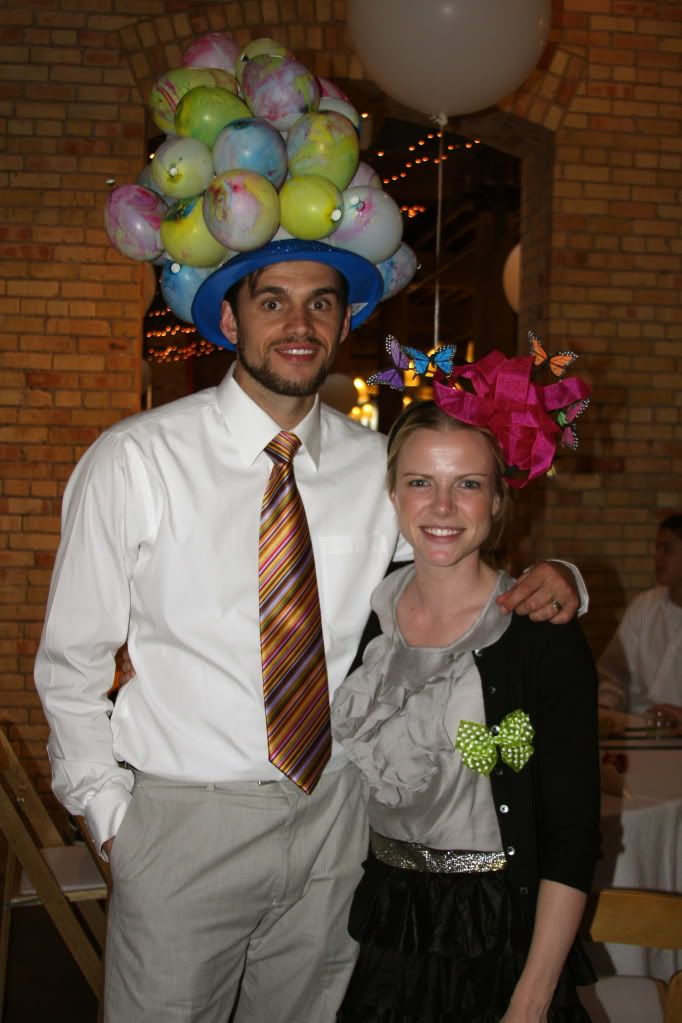 steve's balloon hat he made all by himself. awesome. and just ignore jayne's bow i have on my sweater that i forgot i had there when this picture was taken. that girl won't keep anything on her head/hair. which is why i didn't make her wear a party hat.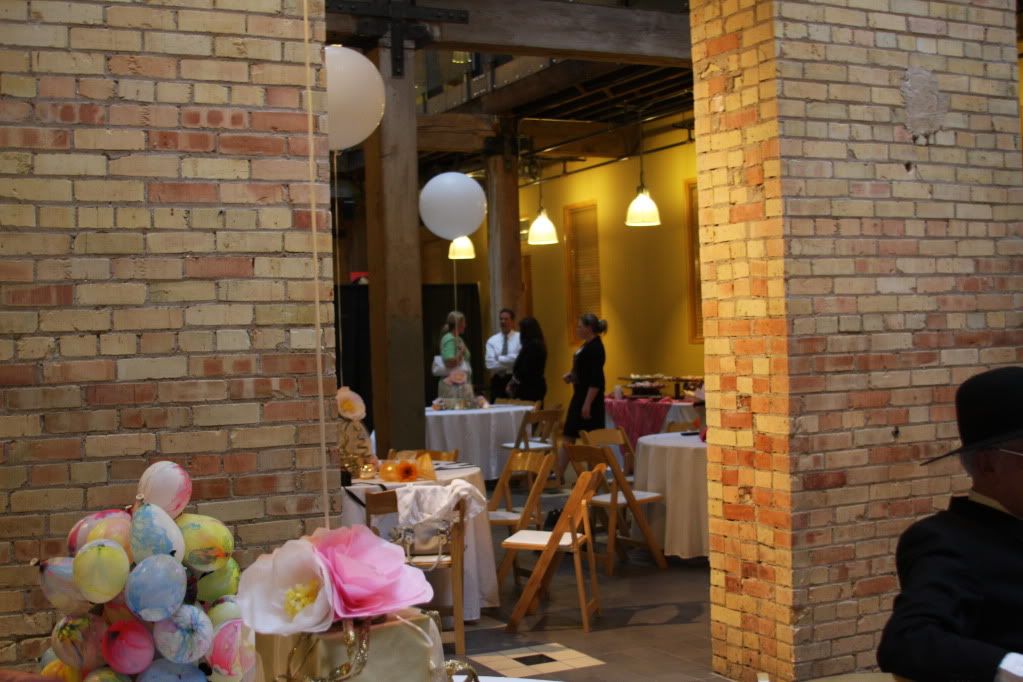 this inside of this building is so cool. i love the light fixtures and the beams and brick.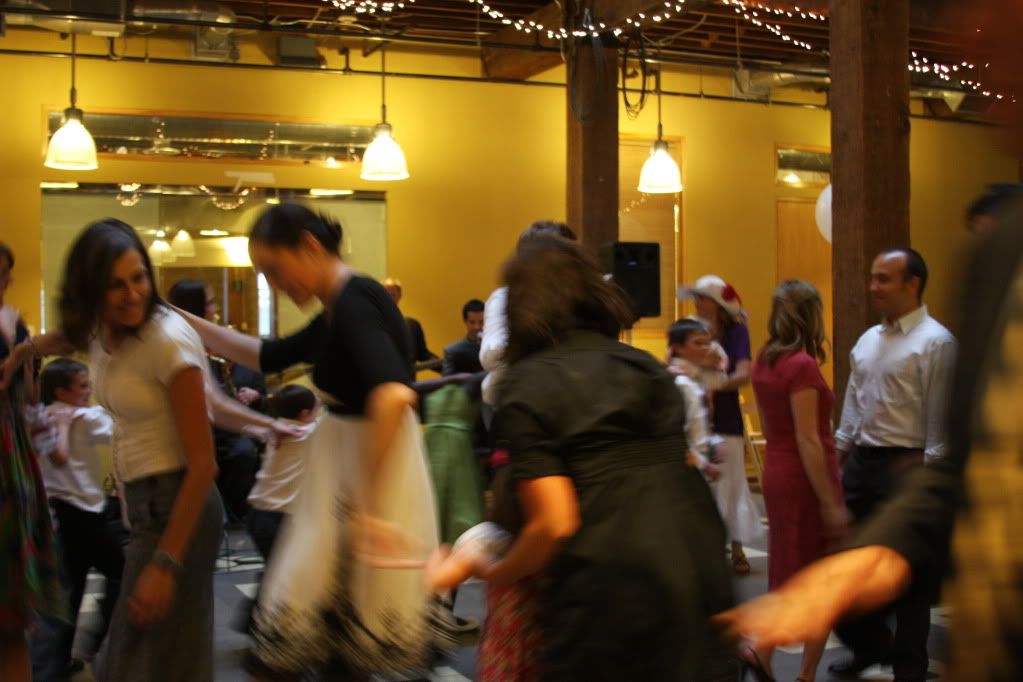 dance party!!! we had a band and there was a lot of dancing going on. my kind of party.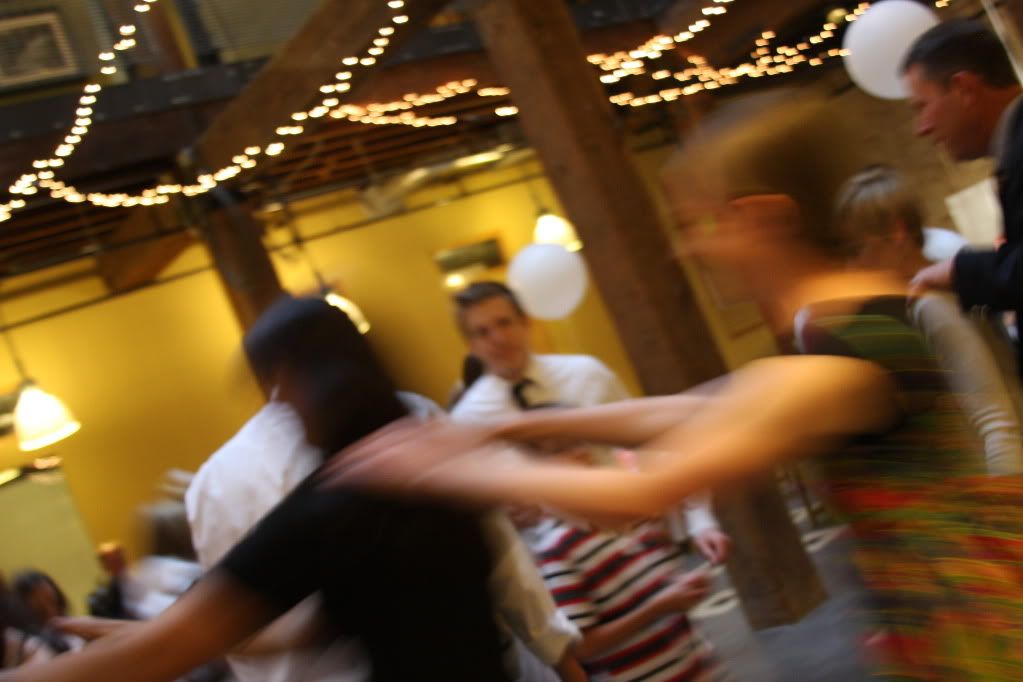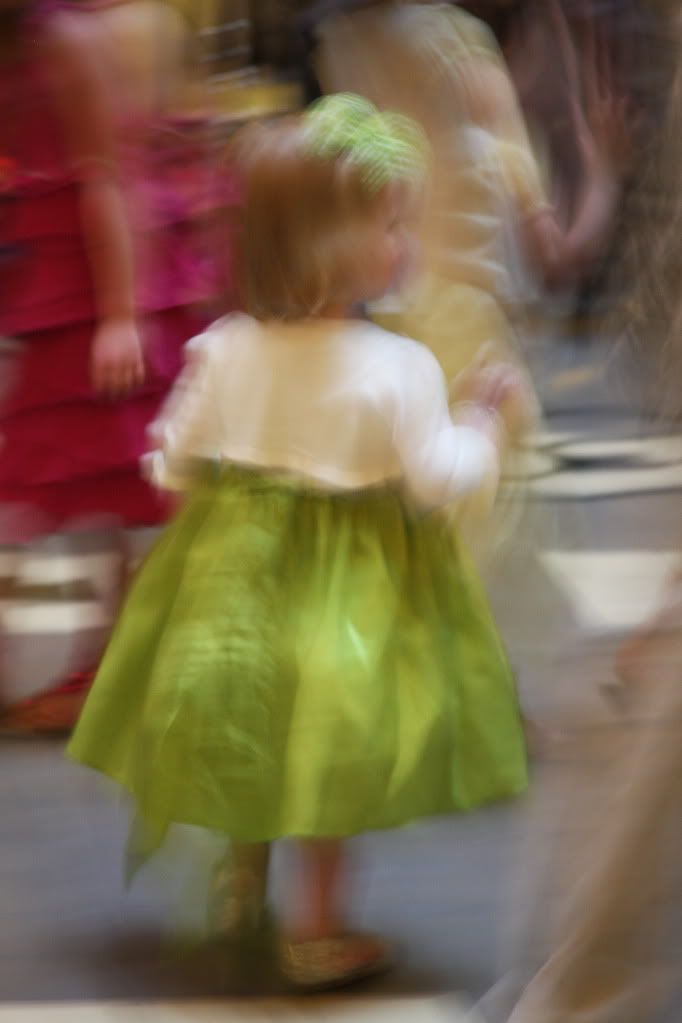 jayne was a dancing animal. so much fun.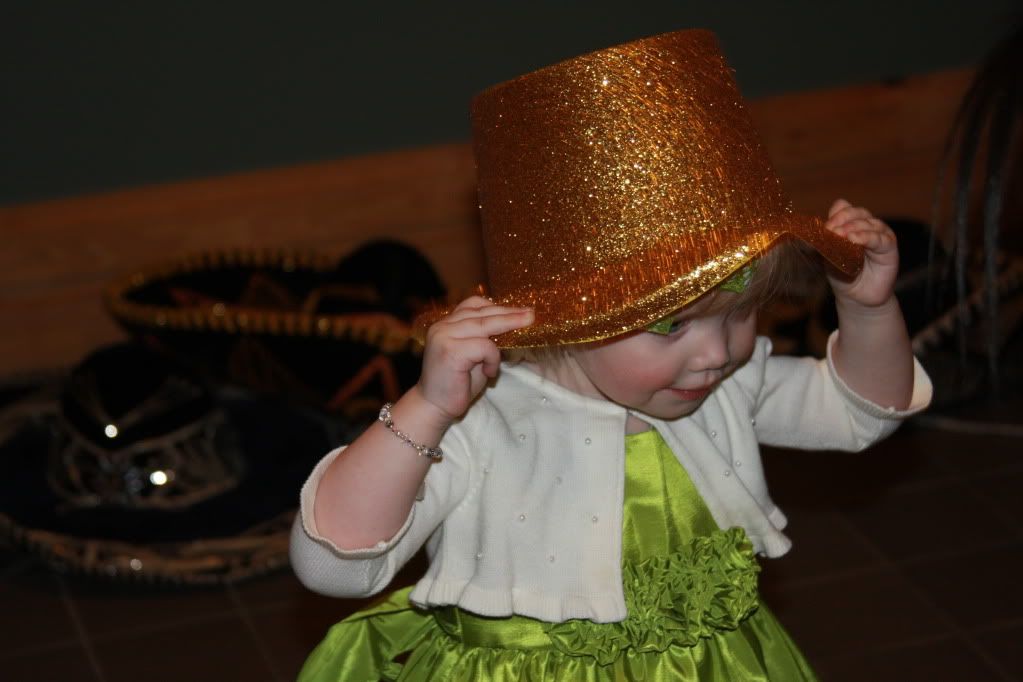 putting on one of the sparkly free-for-all hats. it was on there for maybe 2 seconds.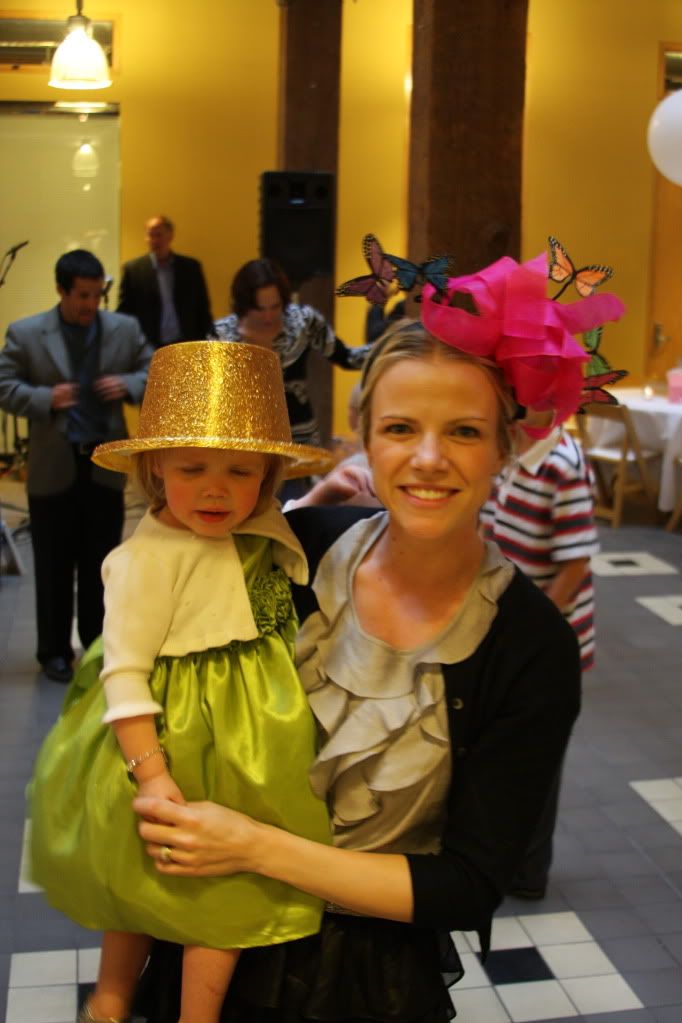 the woman of the hour blowing out the candles on her cake. while holding a fussy vinny. she takes grandmothering to a whole other level!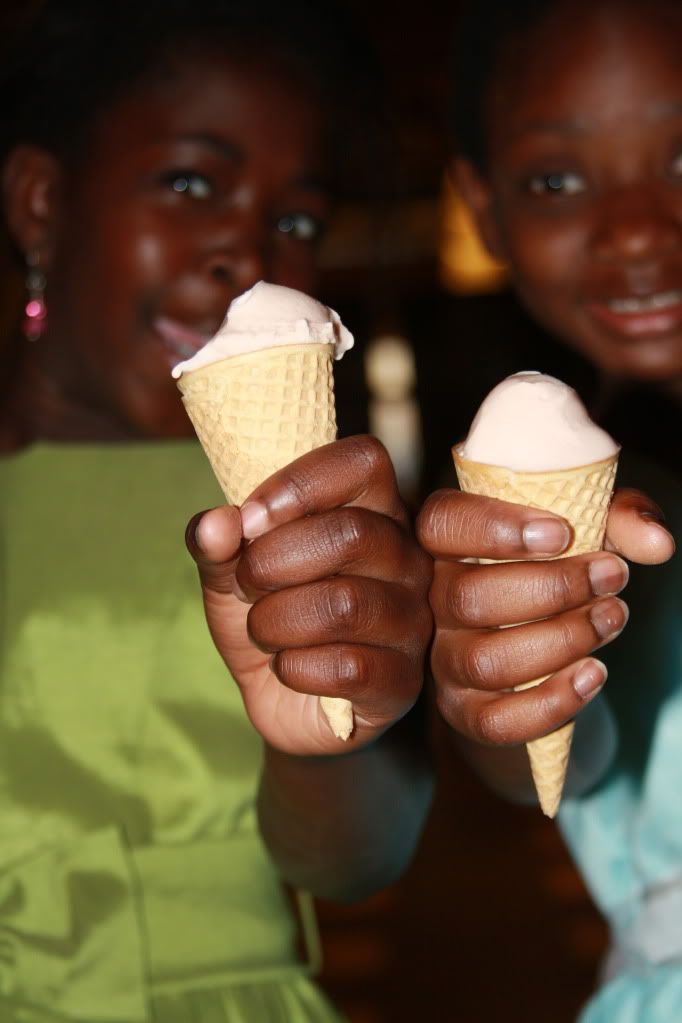 the food was bomb. the gelato was my favorite.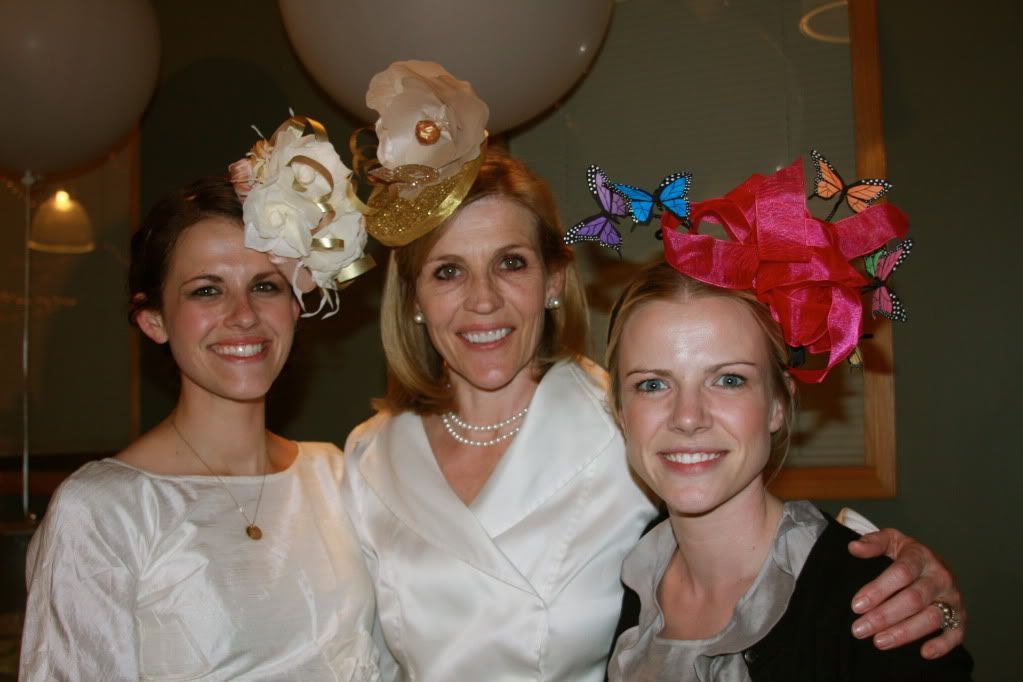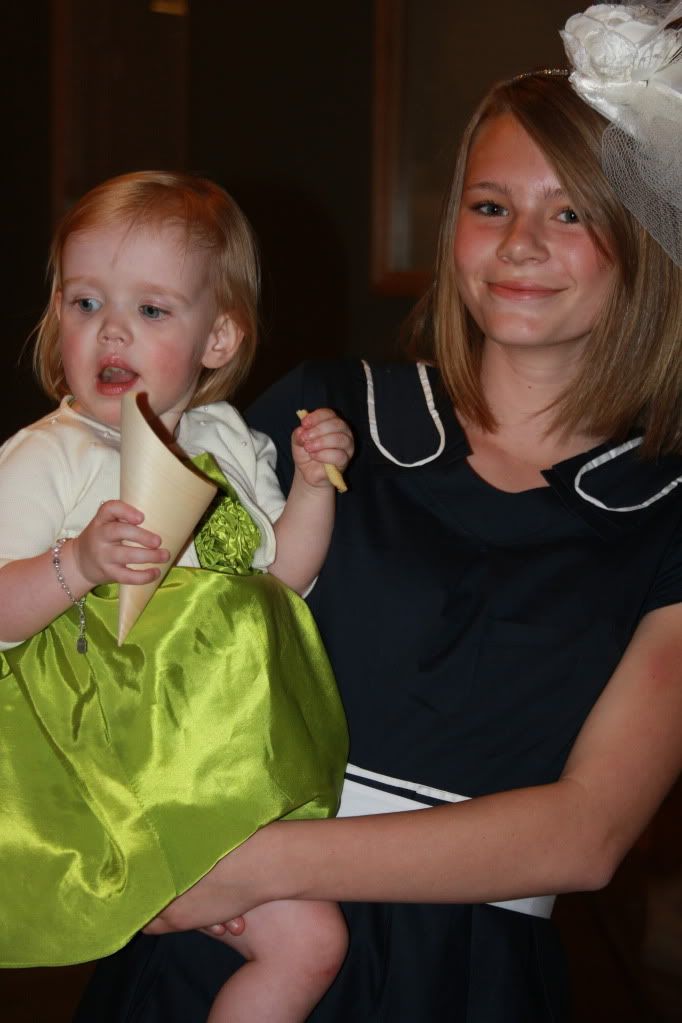 jayne was loving steve's cousin chloe and all the little kids running around. and the french fries.
she was in little girl heaven.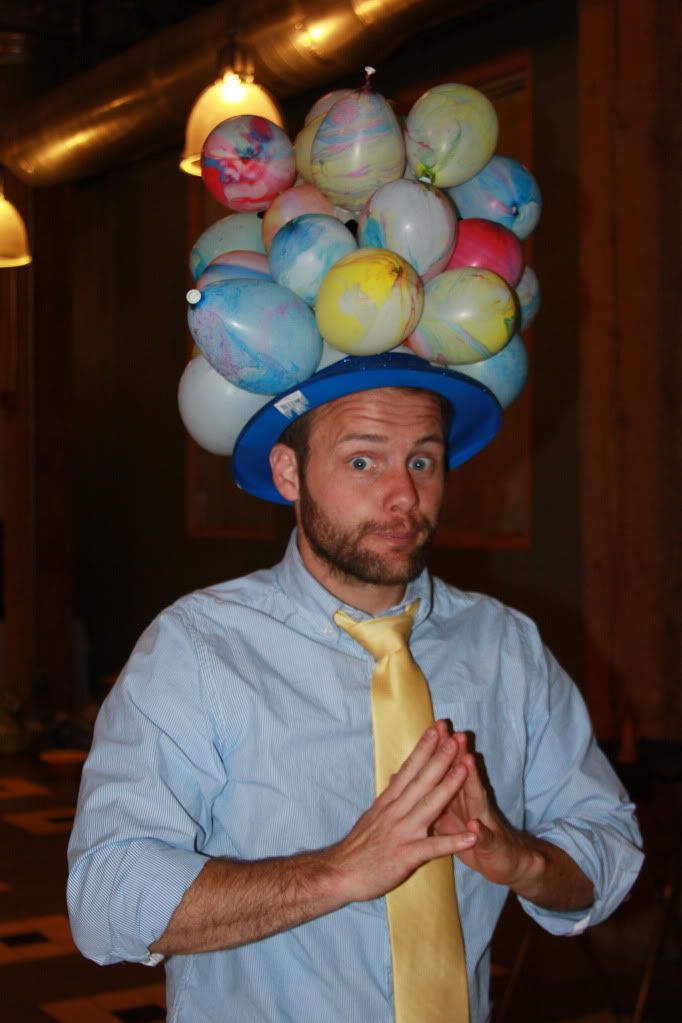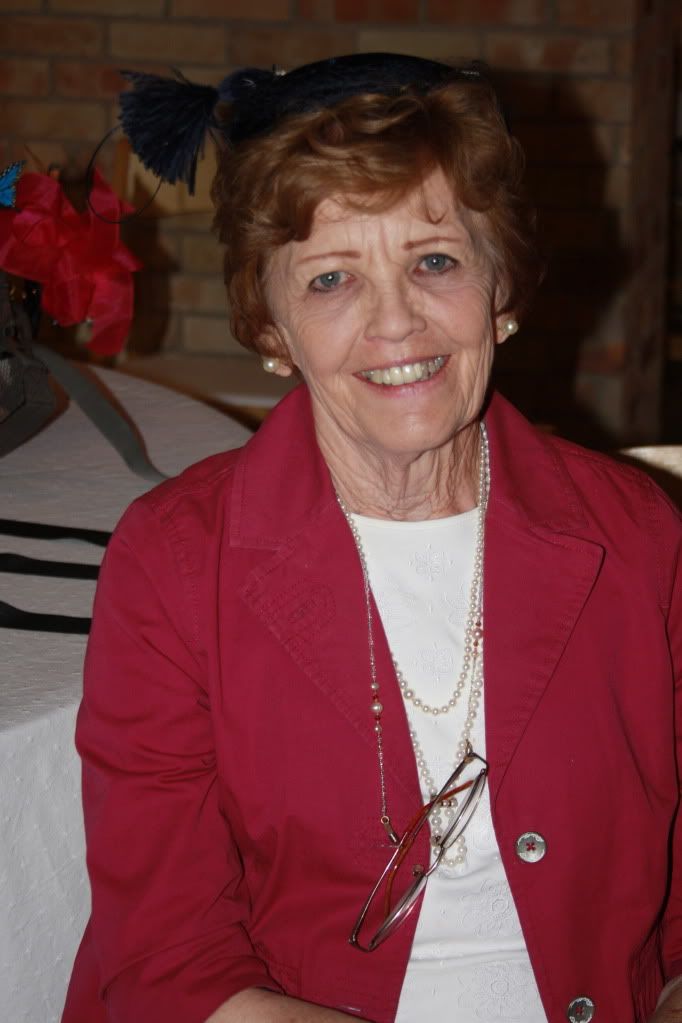 monette's mother (steve's grandma) LaDawn.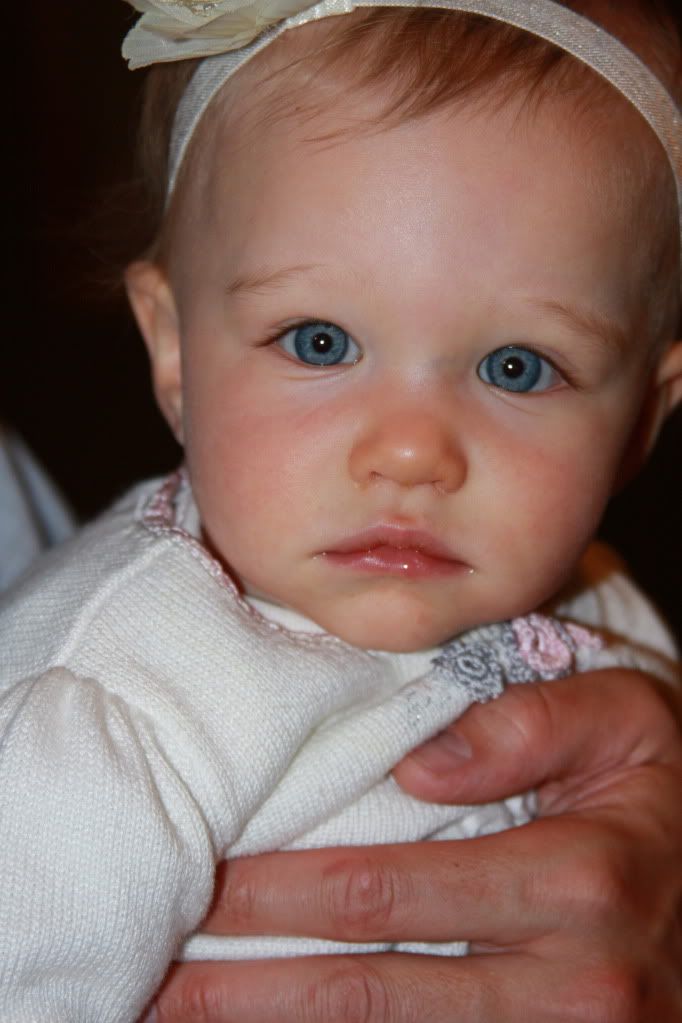 steve's adorable cousin Maren. she is beautiful.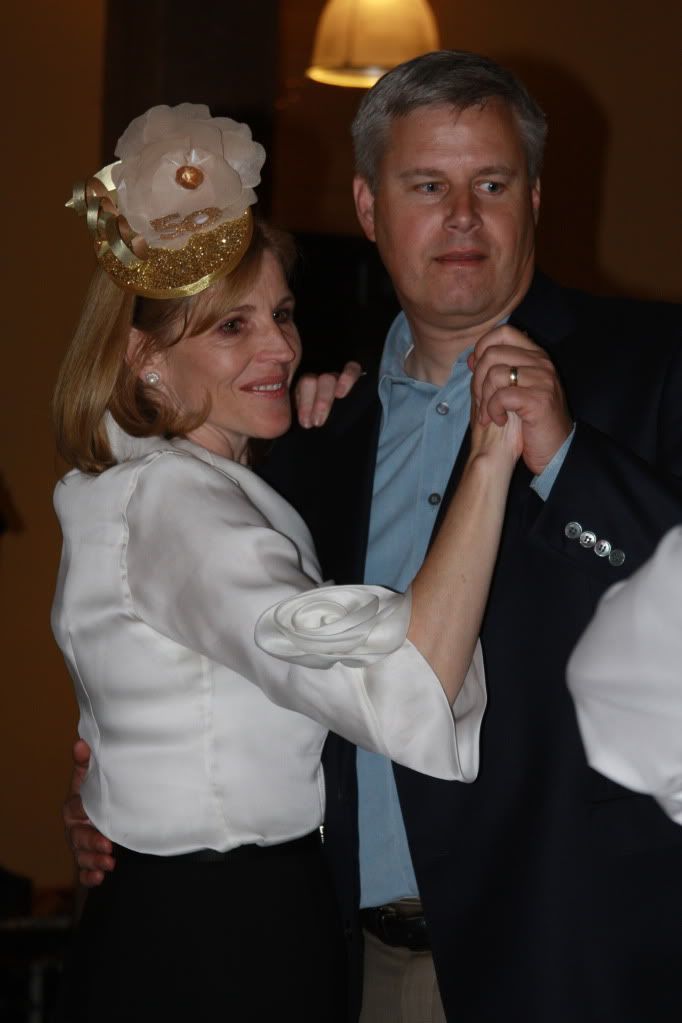 cute.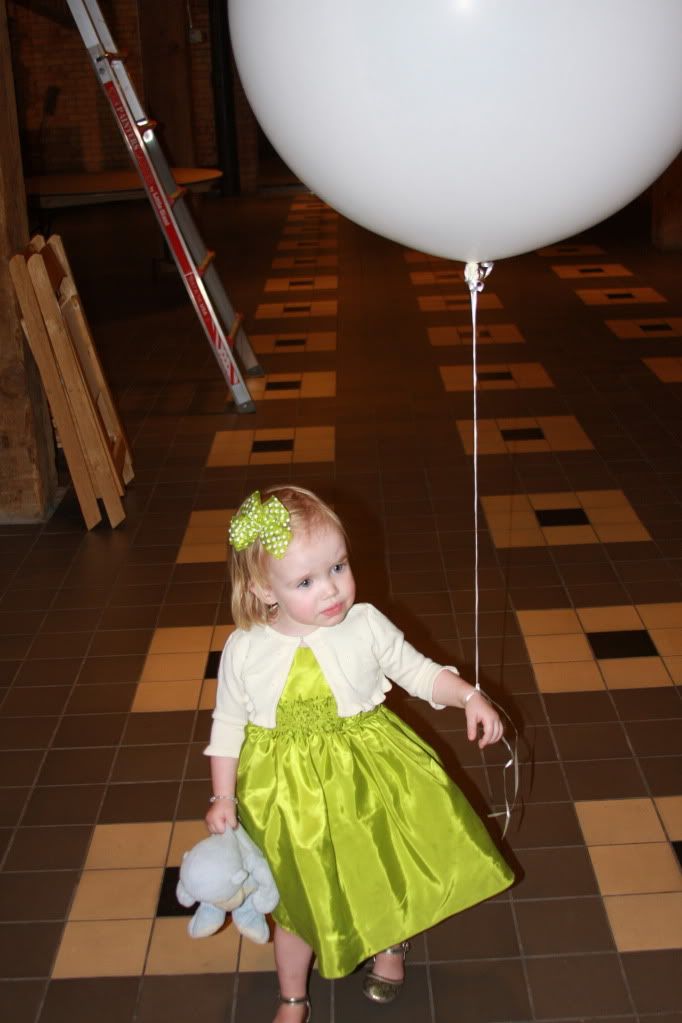 jayne loved the big balloons so we let her run around with one at the end of the party.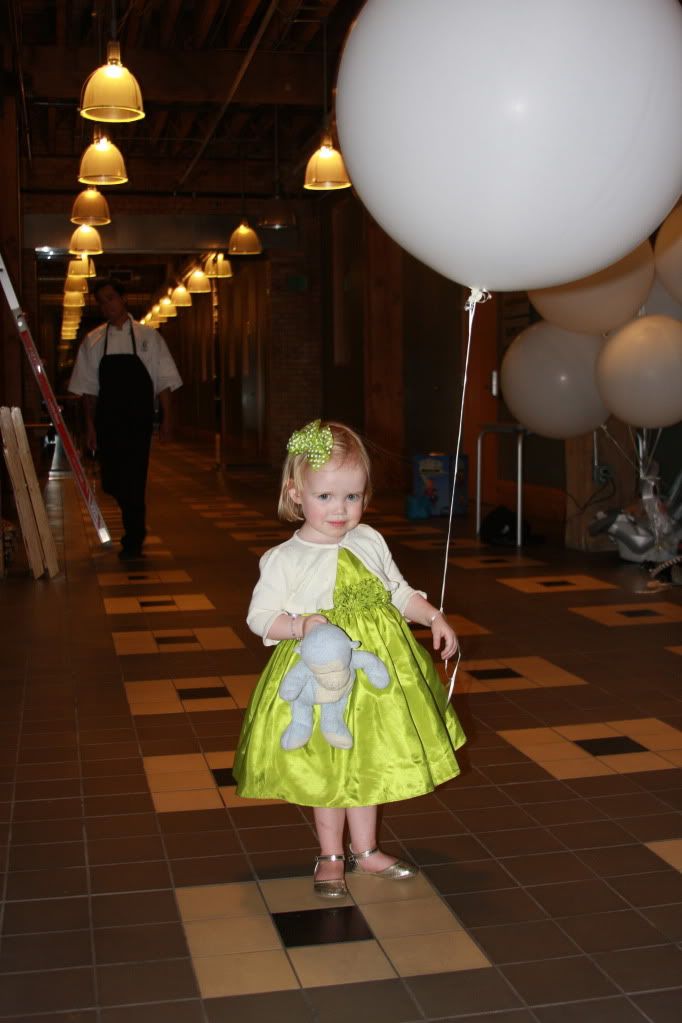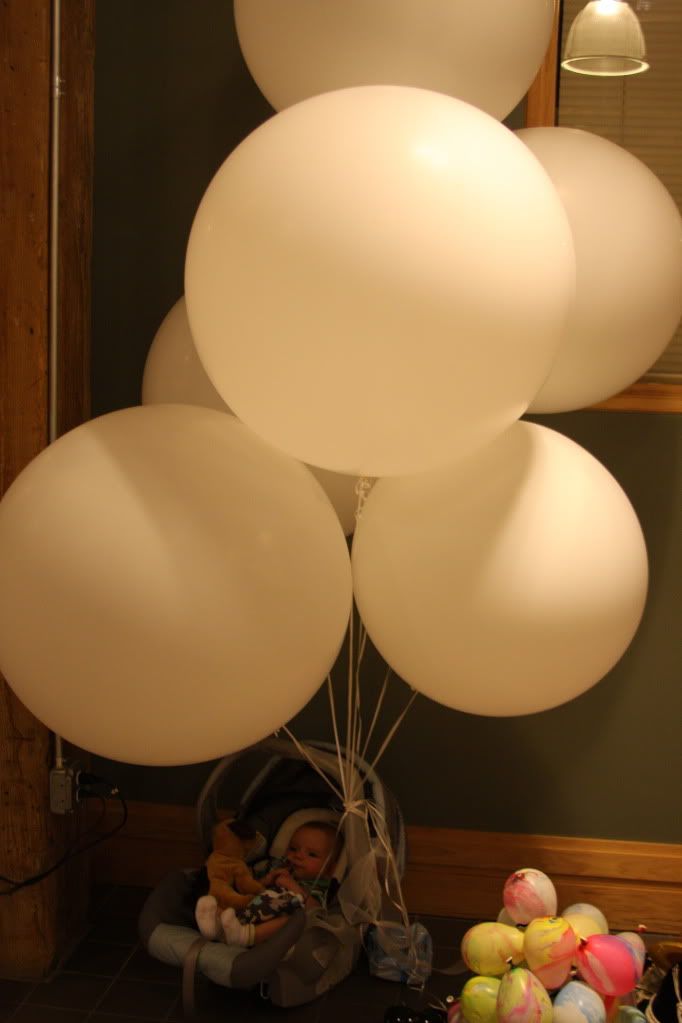 can you spot vinny under there?
one of my jobs for the party was to put together a poem and share at the party. its kinda become a tradition. here it is if you're interested. i thought it came together pretty well if i do say so myself.
Monette Turns 50
June 3, 1961 is a very special date,
the birthday of a gal who we all think is so great.
in a hospital in ogden monette made her debut,
now 50 years later i've got a poem for you.
before monette could talk, sing, dance, or cheer
she walked at 4 and 1/2 months shy of a year.
climbing the door frames so very high,
making it look like a piece of pie.
as a little girl she played barbies with Kaylene,
Chatty Kathy doll was her friend when Brad was being mean.
playing outdoors, climbing trees, hanging out with Amber.
monette wanted to stay in provo forever!
THEN. to palmyra NY, her family moved for a year,
she'd soon come down with a "stomach ache" so severe.
she would be grateful to have met a friend quick,
because her stomach ache was just a result of being homesick.
Monette was so popular at her high school,
a total blonde bombshell she made all the boys drool.
Jv cheerleading, flag twirling, varsity cheerleading to boot
she had long legs, could do the splitz, and was super cute.
it wouldn't be long before she'd catch someones eye,
when along came this 6 foot 5 inch guy
he took her to a dance on their very first date
and when he left on his mission, she'd be sure to wait.
that is until she met coach edwards son,
she would have a very hard time deciding who was the one.
but eric came back and swept her off her feet
i guess poor john just couldn't compete.
after a very clever proposal, monette said yes.
and 3 months later she was in a wedding dress.
"the ghetto" was there first home as mr. and mrs.,
and they soon became pregnant after lots of hugs and kisses.
she was still teaching elementary at the nearby school
all the students thought she was really cool.
she would give birth to little stevie.
this grand occasion would make her a mother,
two sisters he'd soon have, but not quite yet a brother.
"half brother" is the term javier would soon merit,
and after a 10 year wait, she'd give birth to max garret.
little did she know that would not be the last,
cause 7 years later she'd adopt a little girl with a whole lotta sass.
me, mike, and suzie would join the family too.
whose the favorite in-law? don't worry monette, we'll keep that between me and you. (wink)
on 7/11/09 jaynie girl would be born,
and now the title "grandma" monette would adorn.
going to "gamma's house" is what she prefers,
its no question grandma's favored in that little heart of hers.
soon little vincent would make grandbaby #2
now they'd both be spoiled with gifts pink and blue.
bath time in grandma's bedroom, Spa treatment diaper changes too.
up the stairs they'd go on sundays and come down with an outfit anew.
monette- you are always so loving, so welcoming, so giving, so kind,
funny, smart, wholesome, you are truly one of a kind.
with each passing day, you may be getting old.
but to us you are still worth way more than gold.
so here's to turning 50, because you're still young at heart,
and don't be troubled if people start to call you "old fart."
gray hair, wrinkles, your candles may create a blaze,
the firemen might have to put it out and stay around for days.
oh i'm just kidding, turning 50 aint really such a bad thing,
after all, take a look at what your life had to bring.
you've accomplished so much, and had a lot of fun too,
and theres not many people that can do all that you do.
not to mention all the senior citizen discounts you'll now qualify for,
and with impending hearing loss you'll no longer hear eric snore.
your eyes won't really get any worse.
and in a hostage situation, you're likely to be released first.
you're investment in health insurance is finally worth it,
and you're secrets are safe with friends cause they likely won't remember it.
you're closer and closer to having an empty nest,
which means you're that much closer to getting some rest.
you'll even have random strangers help you cross the street,
believe it or not, turning 50's pretty sweet!
monette- we love you, admire you, and to you we all cheer,
and we're now looking forward to celebrating your 100th year.
so relax, have fun, grab a drink, just chill.
because you did it, you made it, you're over the hill!